Love Selfies? New App May Help You Detect Pancreatic Cancer
7 years ago |
Cancer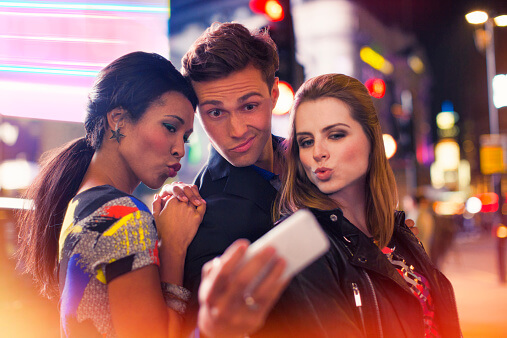 By Joy Stephenson-Laws JD, Founder
Sometimes it seems like we practically live on our phones: talking, texting, emailing, tracking, snapping selfies. And I'm a fan of fitness and other health apps that help me be proactive about eating right and exercising. But I never thought taking a selfie might save my life.
Researchers at the University of Washington are developing an app that is designed to screen for pancreatic cancer by having users snap a selfie. If you know anything about pancreatic cancer, you might recall that it is one of those cancers that is difficult to screen for.
The Centers for Disease Control and Prevention (CDC) reports, "[p]ancreatic cancer is among the ten most common cancers for both men and women. It is the cause of 7% of all cancer deaths. It ranks fourth as a cause of cancer death in both men and women in the United States each year. Incidence rates of pancreatic cancer have been rising by almost 1.2% each year over the last 10 years. Early stage pancreatic cancer usually has no symptoms and spreads quickly throughout the body, making it difficult to detect and harder to treat when it is found in its later stages."
The app, called BiliScreen, "uses a smartphone camera, computer vision algorithms and machine learning tools to detect increased bilirubin levels in a person's sclera, or the white part of the eye," according to the researchers. "One of the earliest symptoms of pancreatic cancer, as well as other diseases, is jaundice, a yellow discoloration of the skin and eyes caused by a buildup of bilirubin in the blood."
This app may also be relevant for liver and biliary cancers that also manifest themselves with jaundice.
Taking a selfie is obviously more accessible and less invasive than getting a blood test. This is very exciting, as early detection is key in detecting and fighting cancer and other diseases.
"Beyond diagnosis, BiliScreen could also potentially ease the burden on patients with pancreatic cancer who require frequent bilirubin monitoring," the researchers report.
And the BiliScreen app appears to be accurate. "In an initial clinical study of 70 people, the BiliScreen app — used in conjunction with a 3-D printed box that controls the eye's exposure to light — correctly identified cases of concern 89.7 percent of the time, compared to the blood test currently used," according to the researchers.
This app is an extension of previous work from the University of Washington. Researchers already created the BiliCam, a smartphone app that screens for newborn jaundice by taking a picture of a baby's skin. This app was reportedly successful on 530 infants.
Next steps for this potentially life saving app are to test the app on a larger audience.
So what else can we do to be proactive about pancreatic and other cancers?
Of course, always avoid smoking,drink alcohol in moderation and maintain a healthy weight.
You can also make sure to get an adequate amount of certain nutrients and antioxidants. According to the American Cancer Society, a diet high in vegetables and fruits has been linked to the reduction of certain cancers. Vegetables and fruits like broccoli, beans, spinach, apples, oranges and pineapples are rich in antioxidants, which work to prevent cancer and a host of other diseases.
Make sure you are also getting adequate amounts of vitamins and minerals that may help lower your risk for developing pancreatic and all types of cancer.
Magnesium.

There is some evidence that magnesium may reduce the overall risk of cancer. In one study, researchers found that the group with the highest magnesium intake seemed to have the lowest overall cancer risk, while the lowest magnesium level group carried a higher risk. Foods containing magnesium include spinach, pumpkin seeds, yogurt, kefir, almonds, black beans, avocado, figs, dark chocolate and bananas.

Selenium.

Selenium may be protective against cancer, and a deficiency in this important mineral may be a risk factor for several types of cancer. Foods high in selenium include Brazil nuts, yellowfin tuna, halibut, sardines and chicken.

Calcium.

Adequate calcium may decrease your risk for colorectal cancer. Recent studies confirm that high calcium intake is associated with a lower risk of colorectal cancer among both men and women. Maintaining the correct levels of calcium in your system may also reduce your risk for breast cancer. For several foods rich in calcium, click

here

.

Zinc.

People with increased dietary zinc intake may have a lower risk of lung cancer, a study suggested, noting the protective benefits of this mineral. Eat lamb, pumpkin seeds, grass fed beef, mushrooms, chickpeas, spinach and chicken to get more zinc in your daily diet.

Copper.

People with increased dietary copper intake may have a lower risk of lung cancer, a study suggested, noting the protective benefits of this mineral. Copper rich foods include sunflower seeds, lentils, almonds, dark chocolate, beef liver and asparagus.

Iron.

Increased iron intake may also help protect against lung cancer. However, excess iron intake can cause other health problems. Iron-rich foods include red meat, pork, poultry, seafoods, beans, spinach (and other leafy greens), peas,

cherimoyas

and iron-fortified cereals.

Sulfur.

Sulfur is a key part of antioxidants, which protect your body against free radical damage, which may contribute to cancer development. Most of your dietary sulfur comes from proteins such as fish, beef and poultry. You can also find sulfur in egg yolks, beans, coconut, bananas, pineapple, watermelon, broccoli, garlic, onions, asparagus, leeks, kale, sweet potatoes, peas, chives, avocados, cauliflower, Brussels sprouts, wheat germ and tomatoes.

Vitamin D.

Studies conducted at the UC San Diego School of Medicine showed that

higher levels of Vitamin D

are associated with a reduced risk of cancer. To learn more about food sources of vitamin D, click

here

.
Have a safe and healthy holiday weekend. Always keep in mind, healthy food is medicine!
And, enjoy your healthy life!
The pH professional health care team includes recognized experts from a variety of health care and related disciplines, including physicians, attorneys, nutritionists, nurses and certified fitness instructors. This team also includes the members of the pH Medical Advisory Board, which constantly monitors all pH programs, products and services. To learn more about the pH Medical Advisory Board, click here.