Lymphatic Drainage May Help Us Be Proactive in a 'Tridemic'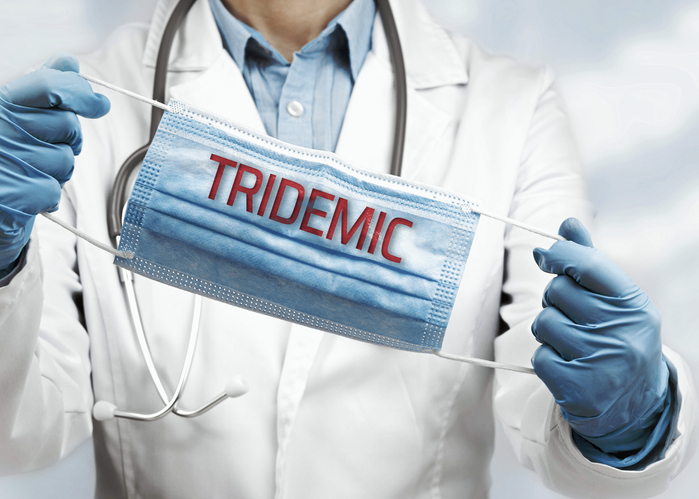 By Joy Stephenson-Laws, JD, Founder
I can't believe it is almost 2023. It seems like just yesterday it was 2020, and we were all confined to our homes adjusting to a new way of life and celebrating birthdays and holidays with just those with whom we lived or over Zoom if including extended family and friends.
I suppose life is now back to normal. But we must always remain proactive about our health as we face a potential 'tridemic' this winter.
RSV, FLU, COVID
We may not be looking at your average cold and flu season!
"As a common respiratory virus surges in children across the country, flu cases climb, and COVID-19 simmers in the background, some medical experts are worrying about a potential 'tripledemic [also called 'tridemic'],'" according to Yale Medicine.
"There's no scientific definition for this term; it simply refers to a collision of RSV (respiratory syncytial virus), flu, and COVID-19 to the extent that it might overwhelm hospital emergency departments."
RSV (respiratory syncytial virus)
RSV is a common virus that in most cases causes mild, cold-like symptoms. Many kids get RSV by the time they are two-years-old. More severe cases of RSV, which can lead to bronchiolitis (inflammation of the small airways in the lung) or pneumonia, are more common in babies that are six months or younger as well as babies who were born premature or already have existing health issues such as a compromised immune system or congenital heart disease.
One mom named Anita Binayi-Ghiam recently shared how her three-year-old daughter had to spend almost a week in the intensive care unit and be put on oxygen due to having RSV.
"Pediatric bed occupancy also remains the highest it has been in the last two years, with 78% of pediatric hospital beds filled, according to data from the Department of Health and Human Services," according to a report from ABC News that shared Binayi-Ghiam's story.
The Centers for Disease Control and Prevention (CDC) reports that each year it is estimated that between 60,000-120,000 older adults in the United States are hospitalized and 6,000-10,000 of them die from RSV infection.
High risk adults include those who are 65 and older, have chronic lung or heart disease and/or have a weakened immune system.
Flu season came early this year. Flu surges usually occur in December and peak in January or February, but the CDC reports that there have already been more than six million flu illnesses, more than 50,000 hospitalizations due to flu illness and 2,900 flu deaths.
In San Diego County, a 55-year-old man died from the flu back in October. One report said he was unvaccinated and had underlying health conditions.
COVID-19 (coronavirus, SARS-CoV-2)
This virus may not be as much of a threat as it was back in 2020, but it is still something I think we have to be mindful of.
"As of November 16, 2022, the current 7-day average of weekly new cases (40,102) decreased 3.2% compared with the previous 7-day average (41,412). A total of 98,174,364 COVID-19 cases have been reported in the United States as of November 16, 2022," reports the CDC.
Whether a person wants to wear a mask or get vaccinated or not should be a personal choice. But I believe that we all need to understand that taking ownership of our health is the best line of defense in dealing with the reality that there are three respiratory viruses out there that are highly contagious and likely to spread as we continue on with holiday gatherings and travel.
As mentioned, hospitals are overwhelmed. So we really have to help ourselves by being proactive about our health so that in the event we do get one of these viruses, the illness is more likely to be mild and not require hospitalization.
Be proactive

By now you have read our earlier recommendations for avoiding viruses and infections. We have discussed those before here. In addition to diet, physical activity, getting enough nutrients and other prior recommendations, we need to focus on the important role our lymphatic drainage system plays in enhancing our immune system and how we can be more proactive in maintaining it - especially during the flu season and this potential 'tridemic.'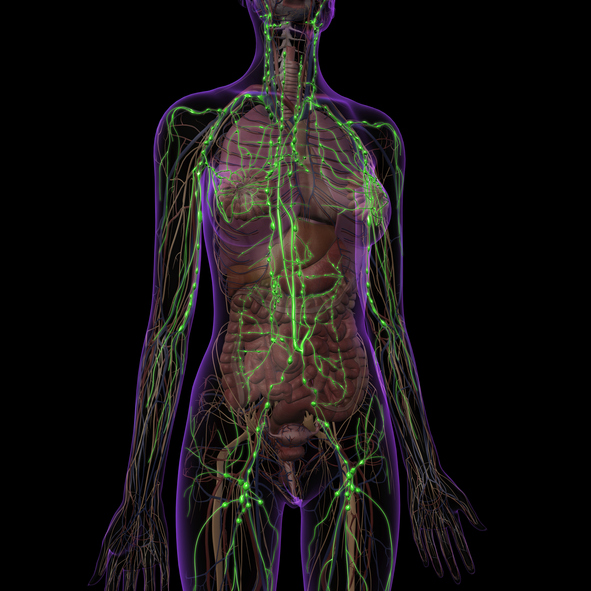 What is the lymphatic drainage system?
The importance of the lymphatic system is frequently overlooked, but understanding the important role it plays in maintaining the immune system is critical. A strong immune system will usually reduce or eliminate the impact of viruses and infections.
I found this description from the Cleveland Clinic helpful in describing the lymphatic system:
"Some 20 liters of plasma flow through your body's arteries and smaller arteriole blood vessels and capillaries every day. After delivering nutrients to the body's cells and tissues and receiving their waste products, about 17 liters are returned to the circulation by way of veins. The remaining three liters seep through the capillaries and into your body's tissues. The lymphatic system collects this excess fluid, now called lymph, from tissues in your body and moves it along until it's ultimately returned to your bloodstream."
This excess fluid of lymph produces and releases lymphocytes (white blood cells) and other immune cells that monitor and then destroy the foreign invaders — such as bacteria, viruses, parasites and fungi — that may enter your body. Lymph is therefore a very important part of our immune system.
The vessels which transport lymph are a large network. These vessels work under very low pressure and have a series of valves in them to keep the fluid moving in one direction. They can become clogged and operate suboptimally. In fact, a clogged lymph system can be the cause of many ailments, including fluid retention, sinus infections, respiratory problem and more.
Yes, we can enhance our lymphatic drainage system.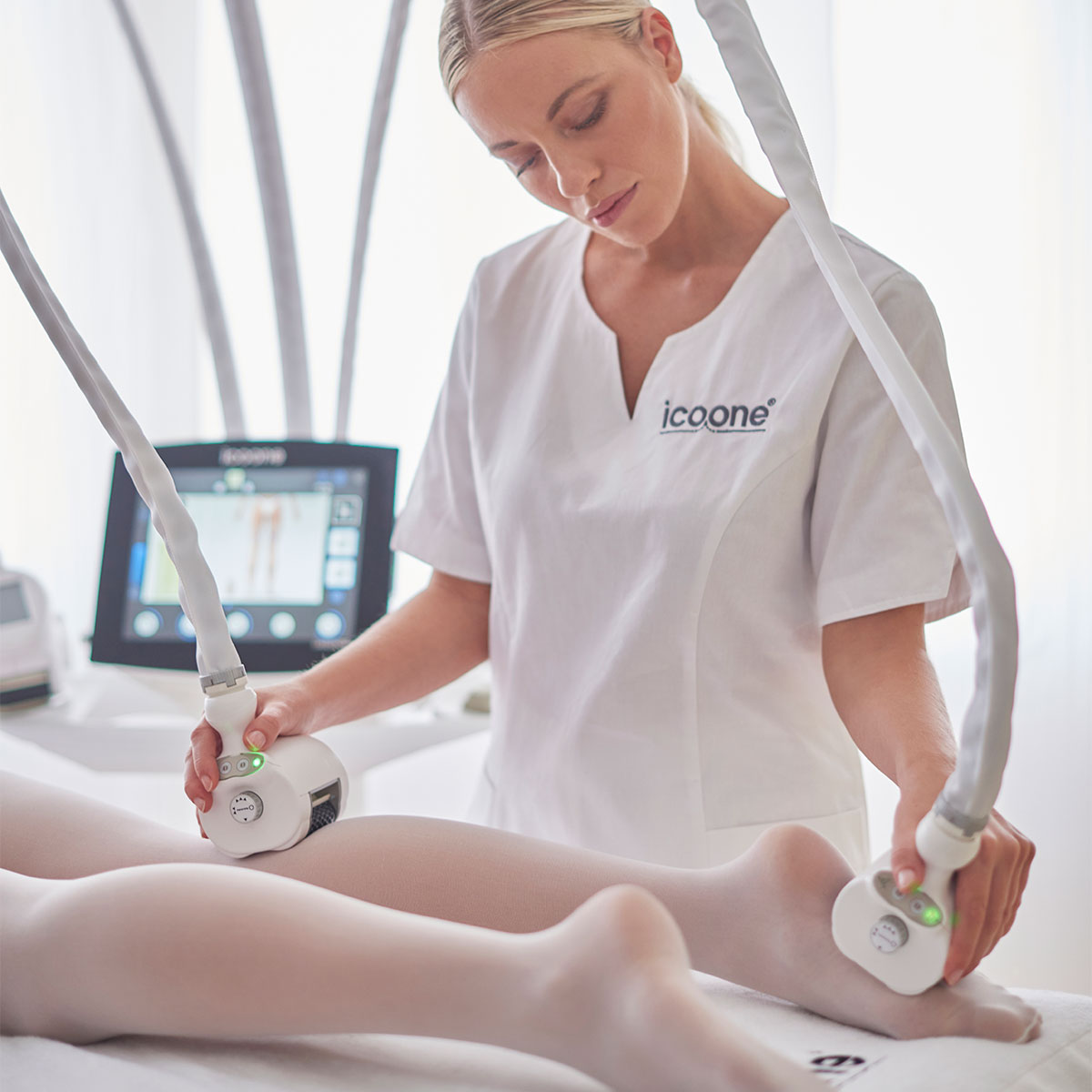 There are many ways to improve our lymphatic drainage system, and we have discussed some before. However, this topic continues to dominate the discussion in our organization and we have taken even more steps to identify more state of the art modalities and practices which enhance the proper flow of our lymphatic drainage system. I have increased my use of these modalities and experienced marked improvement with water retention and overall wellness.
1. The Icoone uses patented microstimulators that move in a range of different targeted motions over the body to enhance the proper flow of lymph fluid. A series of micro-massages stimulates the lymphatic capillaries encouraging the drainage of liquids from the tissues. (The Icoone can be found at Chiltonic in Encinitas).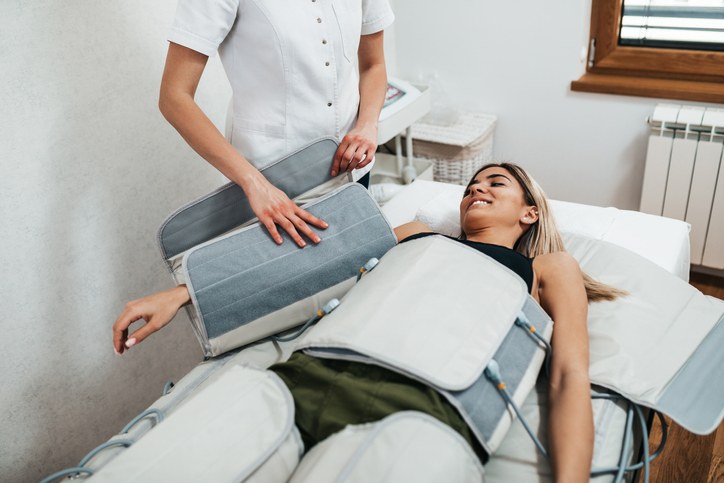 2. Pressotherapy (similar to compression therapy). This therapy uses carefully regulated pressure to stimulate dermal and subdermal circulation and reduce trapped lymph.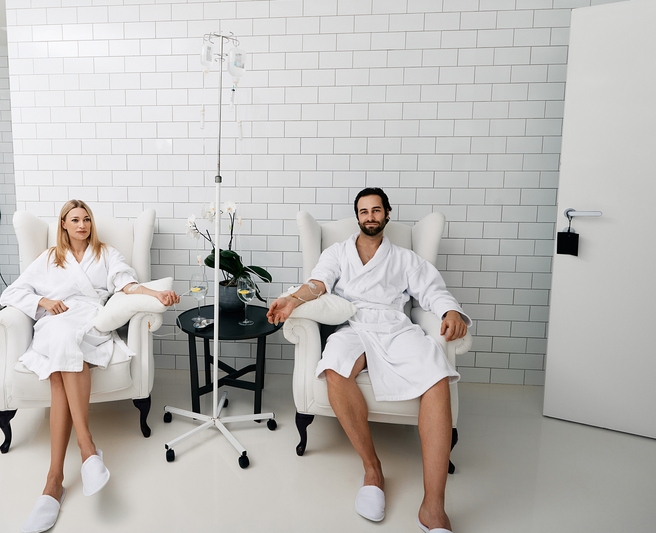 3. The Myers' Cocktail is the original micronutrient drip developed by Dr. John Myers in the 1960's. This cocktail usually includes vitamin C, magnesium, calcium and B complex (which contains all the B vitamins). This cocktail treatment increases the blood concentration of these key nutrients more quckly than oral supplements. That's because when nutrients pass through the gastrointestinal tract, their absorption may not be efficient. But with a Myers' Cocktail, the vitamins and minerals go directly to your bloodstream so they can be delivered to your cells. These nutrients will usually enhance lymphatic drainage to the extent that they detoxify the lymphatic system and assist with dilation of the lymphatic vessels.
Let's take the time to educate ourselves so we can enjoy our healthy lives!
Disclaimer: This article is not intended to provide medical advice. Please consult with your doctor or another competent healthcare practitioner to get specific medical advice for your situation.

The pH professional health care team includes recognized experts from a variety of health care and related disciplines, including physicians, attorneys, nutritionists, nurses, and certified fitness instructors. This team also includes the members of the pH Medical Advisory Board, which constantly monitors all pH programs, products, and services. To learn more about the pH Medical Advisory Board, click here.