The Secret to Raising Strong Girls May Be Vitamin D
6 years ago |
Vitamin D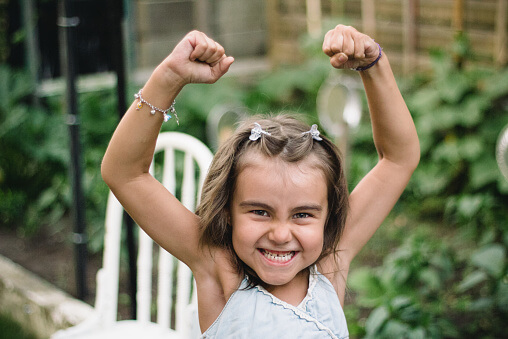 By Joy Stephenson-Laws, JD, Founder
I think it's safe to say that every woman in her life at some point has been told, "Boys are stronger than girls." This, of course, is debatable. Many may say if women are not as strong as men, then how do you account for their incredible strength when it comes to the hard labor associated with delivering babies? And of course, there are many physically strong women out there - for example, athletes like Serena Williams.
But it is true, however, that in general females have lower total muscle mass than men. And studies have identified well over "3,000 genes that are differentially expressed in male and female skeletal muscle."
Now a recent study shows that young girls with higher levels of vitamin D may have stronger muscles than those with lower levels.
The study, published in the Journal of Clinical Endocrinology and Metabolism, suggested that girls with low levels of vitamin D have a 70 percent increased risk of being among the lowest 10 percent in a test for muscle strength. Girls were stronger if their vitamin D level was more than 50 nmol/L.
Interestingly, a higher intake of vitamin D for young boys did not appear to make a difference in their strength.
The study involved 881 five-year-old children. The children's muscle strength was measured through a hand grip strength test. Out of the 881 children, 499 underwent vitamin D status analysis tests.
"Low vitamin D levels were defined as serum 25OH-vitamin D below 50 nmol/L," according to this report on the study.
Researchers took into consideration variables such as height, weight and body fat percentage.
According to the report, this means that "the association wasn't due to being overweight and thereby having lower vitamin D and lower muscle strength. It also means that it wasn't because girls were less physically active."
Other interesting findings from the study?
"The study shows no association with vitamin D levels in mothers during pregnancy or in the umbilical cord at birth. This leads to the conclusion that there is no prenatal programming effect of muscle strength," according to the report. So the research is more about the immediate effect of vitamin D.

There is no definitive explanation as to why a high intake of vitamin D appeared to make girls stronger but not boys. "But other studies on children and adults have shown that vitamin D increases the levels of IGF-I, which is a growth factor that increases muscle strength. Also, the IGF-I level is different in boys and girls, which could be part of the explanation," according to the report.

We cannot conclude from this study that young girls are guaranteed to have better muscle strength if they get a high intake of vitamin D through diet, supplementation and sunlight.
But I think this study does prove that, yet again, vitamin D is a critical nutrient all children need for their overall health and development.
We previously discussed how babies getting enough vitamin D can be a matter of life or death.
Additional consequences of vitamin D deficiency in children may include:
Skeletal deformities, brittle bones, frequent fractures and increased risk of premature osteoporosis (and keep in mind, stronger muscles usually means stronger bones)

Impaired growth

Dental deformities

Severe asthma
On top of this, researchers at John Hopkins University found that low vitamin D levels may raise anemia risk in children. Vitamin D deficiency may also increase a teenager's risk of developing diabetes and heart disease.
So how much vitamin D should your child be getting?
For children between the ages of 1 to 13 years, the RDA is 600 IU (15 mcg), according to the NIH.
It is important to consult a competent healthcare professional about what is best for your child. There are other factors that have to be taken into consideration. For example, darker-skinned children have more difficulty absorbing vitamin D from sunlight. Low vitamin D is also more common in overweight children. And children who live in climates with less sun also have a greater chance of being deficient in vitamin D.
The first step in making sure your child is not vitamin D deficient is to have him or her undergo a nutrient test. If the results reveal a deficiency, you can then discuss with the doctor or pediatrician how you can raise your child's vitamin D levels. We get most of our vitamin D from sunlight. But if you are unable to get enough sunlight, there are foods like salmon or certain types of milk you might try. In some instances, vitamin D supplements may be an option.
You also do not want your child to have too much vitamin D. Having too much of a certain nutrient can actually be detrimental - even toxic. This is why we always suggest, "Test, don't guess." And consulting a competent healthcare professional to interpret those results and suggest changes is advisable.
Enjoy your healthy life!

The pH professional health care team includes recognized experts from a variety of health care and related disciplines, including physicians, attorneys, nutritionists, nurses and certified fitness instructors. This team also includes the members of the pH Medical Advisory Board, which constantly monitors all pH programs, products and services. To learn more about the pH Medical Advisory Board, click here.