Want to Improve Your Health Past 60? Take a Cruise!
4 years ago |
Senior Health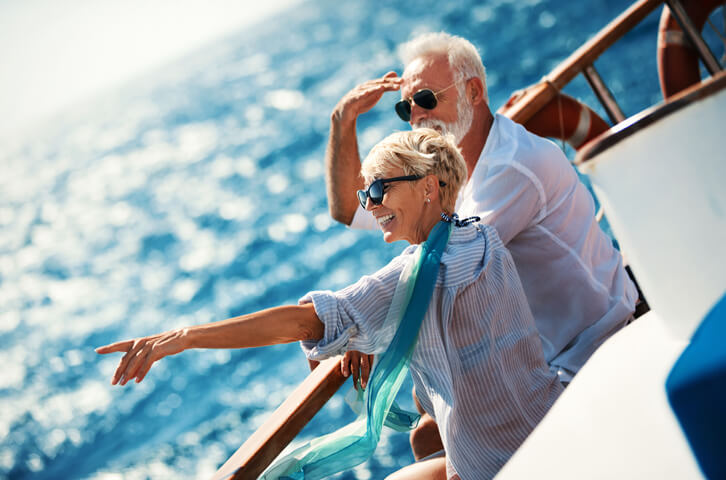 By Joy Stephenson-Laws, JD, Founder
Originally published by Sixty and Me
Did you just do a double take after reading this title? If you did, it would be totally understandable.
After all, when you hear "cruise," you probably think of endless buffets, dozing under the sun, tropical drinks with little umbrellas, and walking off (or maybe rolling off) the ship 20 pounds heavier than when you boarded a week earlier.
But what if I told you that taking a cruise can actually be good for your health? And what's more, there is recent evidence that these health benefits can last for up to six months after your last port-of-call.
Now this is certainly good news for the roughly 10 percent of boomers and 20 percent of the 72-plus crowd who took a cruise during the past year.
It turns out that taking a cruise may improve your health in ways that you may not have even thought about. Here are a few benefits:
Emotional Health
Cruises can provide a total break and escape from your daily routine, reduce stress levels and ease mental fatigue. And while it may sound somewhat "new age," you will get the time and opportunity to know yourself again and re-center emotionally.
You also will be able to make new friends, and, if you're going with friends or family, renew and reinforce your emotional bonds with them.
Cognitive Health
One recommendation for enhancing your cognitive health is to literally exercise your brain. This is why so many doctors and psychologists recommend activities such as playing chess, doing crossword or Sudoku puzzles, and reading to help stimulate and keep your mind sharp as you age.
When it comes to cruising, you're constantly challenging your brain with having to process and analyze all the information from experiencing and navigating ports-of-call, talking with new people, and even using the map you get at check-in to learn your way around the ship.
Physical Health
It may sound counterintuitive, but being on a cruise ship for a week can leave you in better physical health than when you boarded.
For example, you most likely will be spending more time in the sun than you usually do. Sunshine helps your body produce vitamin D, supports your immune system, and can even help with skin disorders and regulate your blood pressure.
You also will probably do a lot more walking than usual, which helps control weight while improving overall muscle tone. Many people report sleeping better on a ship (the movement simulates being in a cradle for some), which can give you more energy.
Of course, all these benefits are in addition to the short-term enjoyment and general happiness you feel during the cruise itself.
Here Is How to Maximize the Health Benefits of a Cruise
As with anything else, the amount of health benefits you can get from a cruise will depend, in large part, on you. The adage "you only get out what you put in" also applies when you're at sea.
And while it's true that a cruise is jam-packed with admittedly unhealthy temptations, with a little advance planning and smart decisions once you're on board, you can leave the ship healthier than when you boarded without missing out on what the ship has to offer (you still are on vacation, after all).
The two easiest lifestyle decisions you can make onboard are deciding how much and what type of physical activity you will do along with how much and what type of food you will eat.
So here are some tips to make sure you're getting enough exercise:
Walk
Being on a cruise makes it incredibly easy to get in or exceed your 10,000 steps a day. Use the stairs instead of the elevator; book a cabin that is furthest from the food service areas of the ship so that you have to walk to your meals; take an after-dinner stroll on the promenade deck and enjoy the sea air.
Take a Class
Check out the different group exercise classes that your cruise offers. You most likely will find yoga, Pilates, aerobics, stretching, and body sculpting in the fitness center.
In addition to helping you get in shape and work off the calories, group classes are a wonderful way to meet people and try something new.
Put on Your Dancing Shoes
Even if it's been a while since you went dancing, being on board a ship is an excellent opportunity to do so. Whether you enjoy ballroom dancing, disco, country, or freeform dancing, you're sure to find something that you can do.
In addition to just being fun, dancing brings a wealth of health benefits. Read more about how dancing may even be the secret to healthy aging.
Choose Active Shore Excursions
Most cruise ships will tell you the level of fitness and physical activity required for any given shore excursion. These usually range from "none," if you will be sitting on a tour bus all day, to "strenuous," if you're going to be hiking in the mountains.
If it's your style – and fitness level – try to pick activities that are more on the dynamic side. I personally like walking tours since I get to see new places as well as some physical activity at the same time.
What About the Calories?
Many cruisers will admit that, despite their best intentions, the food onboard a ship is their downfall. Given that food is available literally 24 hours a day, it's easy to consume three- or four-days' worth of calories in your first day alone!
But you can still enjoy the variety of food (and even indulge in an occasional desert) and stick to your healthy eating routine by following a few suggestions:
Eat in the Restaurant
In addition to being served your meals (and who doesn't enjoy that?), opting for the dining room versus the buffet offers several health benefits. It is much easier to have smaller portions in the restaurant since your food is being plated for you in the kitchen rather than by you when you're hungry.
In fact, on most ships you can even ask for half-portions of whatever you'd like to order. Last, but certainly not least, if you have any food sensitivities, it's much easier to accommodate them in the restaurant than on the buffet.
Watch the Alcohol
Cruise ships make it very easy to indulge not only in food but in alcohol as well. Most lines offer you drink packages that make it possible for you to start your day with a mimosa in the dining room and continue drinking until you have your final nightcap in the lounge.
As tempting as this may be, don't do it!
Alcohol is packed with empty calories with little or no nutritional value. Moreover, excess alcohol may cause dehydration and loss of nutrients. Also, waking up with a hangover is not the best way to enjoy your vacation.
Stay Hydrated
Getting your recommended eight glasses of water a day is always a good idea but even more so when you're on a cruise. Being out in the sun, walking in ports-of-call, and participating in sporting or other activities can dehydrate you.
One idea is to fill up your water bottle in a food service area and take it ashore or around the ship with you. Unless you have a drink package that includes bottled water, you'll not only always have water handy, you'll also save some money in the process!
Always Include Fresh Fruits and Veggies in Your Meals
It's very important to keep your onboard diet as rich in fresh fruits and vegetables as you do at home. This will help ensure that you are getting nutrients like critical vitamins and minerals your body needs.
Many cruise ships make this easier by offering what some call "spa cuisine" and others may call "healthy and fit" menu options.
Enjoy your cruise!
How easy do you think it will be to keep up with your healthy lifestyle on a cruise? If you have gone on one, how did you manage to stay on track with diet and exercise? Was it hard or easy? Did you learn any tricks to share? Tell us about it. Please join the conversation.
Let's Have a Conversation!
Joy Stephenson-Laws is the founder of Proactive Health Labs, a national non-profit health information company that provides education and tools needed to achieve optimal health. Her most recent book is Minerals – The Forgotten Nutrient: Your Secret Weapon for Getting and Staying Healthy, available through Amazon, iTunes and bookstores.